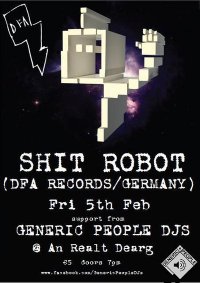 Friday 5th of February, An Realt Dearg
DFA heavyweight Shit Robot plays a one off intimate gig in one of the City's finest music spots. Realt Dearg will be limited to 100 capacity only!
One of the DFA originals Shit Robot cut his teeth as a DJ in NYC through the 90s and early 2000s alongside the likes of James Murphy of LCD Soundsystem and Luke Jenner of The Rapture, curating renowned nights like Plant, which was dubbed the 'coolest and loudest bar in New York City' by Face magazine (10/02). It was at Plant Bar that Marcus and DFA's James Murphy started their now infamous Shit Robot party, named after Murphy's crap robot drawing.
Shit Robot has since moved to Stuttgart and has been producing on the DFA label, putting out a string of acclaimed 12"s - check out the gargantuan rework of of Dondolo's 'Dragon' on Tiny Sticks - and the 'Large Room Full Of People' promo.
Shit Robot productions have been featured on mixes from luminaries such as Radio Slave, Shir I Khan and Rub N Tug's Fabric compilation, while his cut "Simple Things (Work It Out)" is an ace offering of new-school disco that featured in many discerning critics' year end best of lists from '09 and was reworked by Todd Terje among others.
A favourite among chinstrokers and party monsters alike, expect Shit Robot's studio album to be released in early 2010 alongside remixes for the likes of Kaos and Simian Mobile Disco. But now we look ahead to his Cork gig, a night of super heavy-slash-fun electronic sounds traversing disco, tech and house from one of the dance world's best, with Generic People DJs on support. Whoop Whoop!
Doors at 7pm till late with a pocket friendly €5 entry
I'm providing the visuals.